Click here -> to purchase "Holland Cooke: Greatest Hits."
Why?
Welcome to The Golden Age of Audio.
And nobody is better-positioned to compete for listeners' attention and advertisers' dollars than radio broadcasters who communicate exceptionally.
A hundred years ago, radio was the newcomer. Thomas Edison had already captured audio, in 1877 via that first phonograph. Audio went-live when KDKA reported that Warren G. Harding had won the 1920 presidential election.
In its 20th Century heyday, AM/FM broadcasting became a high-margin business, surviving the advent of television (which launched by luring away radio's big stars). And – for a while – the evolution of playback devices (8-track, cassette, CD).
But there were already cracks in the dam. The 1980s Walkman was grandfather to iPod, which begat iPhone and other smartphones that enable us to curate and tote the audio content we choose. Streaming audio made AM stations' programming available in workplaces where reception was unlistenable, if we wanted it there. But, as VCR adoption demonstrated, we were already becoming on-demand consumers.
Our timing couldn't have been worse. Just as new devices – and a new kind of radio, delivered via satellite – were stealing Time Spent Listening from AM/FM stations, broadcast audio became less-special. The 1996 Telecom Act triggered a feeding frenzy. Corporate mega-owners bought-up stations, often bidding-up prices to the point that the local programming which differentiated us from new-tech competitors was no longer affordable.
Today, most AM/FM broadcast hours are robotic. Morning drive is often a station's only local show. Many music stations' other dayparts are voicetracked in-house or beamed-in from a network or the corporate mothership. On Talk stations, automation board-ops syndicated shows, even play-by-play. When superstars like Michael Jackson and Whitney Houston died, stations that featured their music sounded oblivious. "Local news?" Rare now, on radio. And while newspapers' collapsing business model has clobbered their newsgathering, scrappy local news web sites – some staffed by displaced legacy media journalists – are attracting clicks and local advertising dollars. Podcasting's revenue graph is up-up-up, yet too few stations do it well.
Good News/Bad News: Edison Research tells us that over half of daily radio listeners only listen in-car. Don Draper awoke to a clock radio; today "there's an app for that." The kitchen counter radio was displaced by a little TV. Fewer Millennials and teens are driving than when we Boomers were young, and they grew-up without our AM/FM habit.
The Good News: eMarketer forecasts a 47.9% annual growth rate (NOT a misprint) for smart speaker sales, making stations' streams user-friendly in-home...if users choose them from the thousands of audio choices Alexa serves-up. And they will, if we communicate well.
So step-into the conference room. Heck, several hundred conference rooms, at radio stations I've visited in the past two-plus decades, nagging...er, "recommending" the fundamentals you will read in "Holland Cooke: Greatest Hits."
"The radio business is changing at an ever-increasing pace. Platforms come and go at a dizzying speed. However, the universal principles of creating and marketing the core product remain the same and probably will for decades. Thank you Holland Cooke for preserving the fundamental principles of this iconic scene in this invaluable collection of insights and common sense."
Michael Harrison, Publisher, Talkers Magazine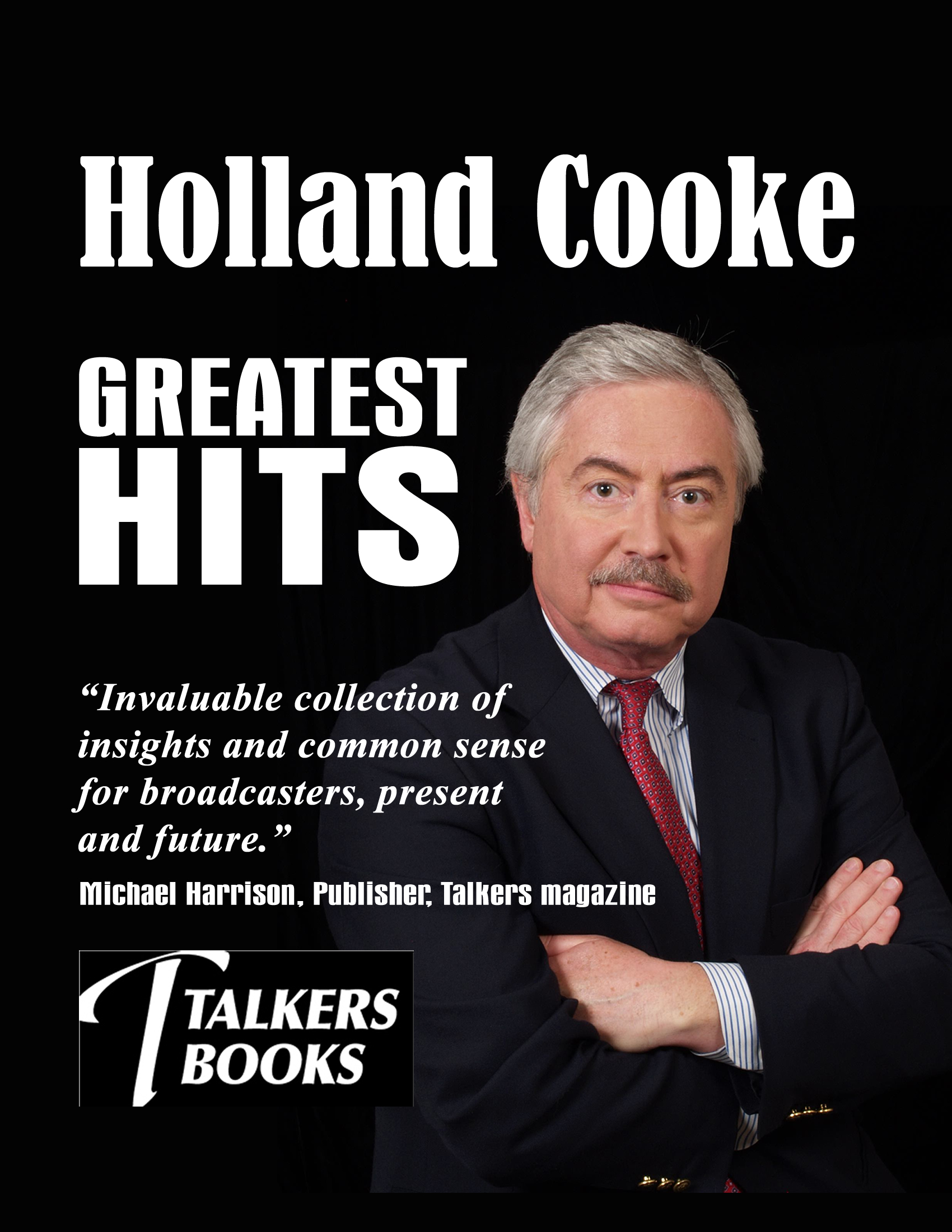 You will read...
5 Ways to Make Ratings Go UP (4-of-which are FREE)
The Quickest Way to Move the Ratings Needle
When Mike McVay talks, we listen. (His fundamentals)
What NOT to say on-air
Interview Tips, from one of the best
Tips for YouTube videos that click and share
Making The Phone Ring (listeners EXPECT to be heard)
Twitter: HOW
"If you're in Radio, you're in Sales." (Translation: Job Security)
Commercial Copy that GETS Results
Improving results from Endorsement Spots
Sales Meetings That Rev-Up Reps
Yes you CAN sell Rush Limbaugh.
Remaining Program Directors: How to remain longer...
Ditto remaining News people
Promos 101 (and a common promo that backfires)
Win-Win Aircheck Meetings (What a concept!)
Weather: Playing Defense in the Smartphone Era
Talk Radio: It's a Solid Gold Weekend!
On-Air to online: Radio's been doing it backward.
Podcasting: Radio's place in our on-demand culture
"Time Management?" Don't even try! TASK management tips
WHERE to find Sales reps? (EVERY GM asks me)
"Why can't I find a good PD?"
Managing Bad News About Your Station
Bang-for-your-buck Off-Air Promotion
About "Digital" We're following – not leading – listeners to new platforms
Database Marketing Tips
Want to syndicate? I can help, but can I talk you out of it?
"AND" (a phrase I ban in commercials) "SO much more..."
"Truly insightful advice. It should be required reading."
Jim Bohannon


"'Can't thank you enough. Where was this gem all those years I was falling off the bike (again and again) as a young manager???"
Phil Zachary, VP/Market Manager, Entercom/Washington

Click here -> to purchase "Holland Cooke: Greatest Hits."
The smartest $99 you'll invest in your career this year.

Your card will be billed by "CLKBANK*COM" (not by "Holland Cooke").
---
Holland Cooke
PO Box 1323, Block Island RI 02807 USA
Click here to send E-mail.
---

copyright 2018 Holland Cooke